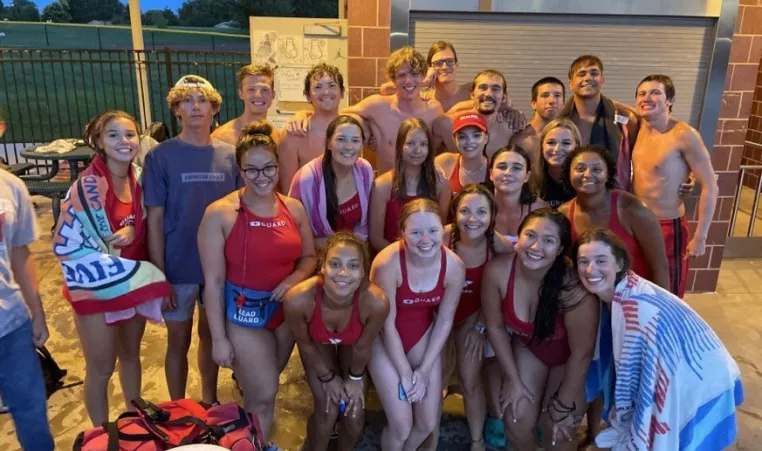 The Greater Wichita YMCA is a place where all of us belong. We participate in classes, programs and sports for many different reasons, but one thing is constant: the Y makes us feel welcome, accepted and loved. Every person who comes here and works here has a #YiBELONG story to tell, and we're honored to share their experiences with you. 
We are fortunate as an association to have a dedicated group of lifeguards who are committed to supporting our mission and keeping our members safe year-round. 
Recently, Anisa Brumley, aquatics director at the Dennis Schoenebeck North YMCA, asked a group of lifeguards to complete this sentence, "I'm a lifeguard, but what I do is ..."
The answers she received were: 
"Work with a team to provide a safe pool and environment for the community to enjoy."
"Connect with and protect members." 
"Keep families safe and watch them make memories."
"Create a safe and fun environment for everyone, regardless for who they are."
"Provide a safe and controlled pool for every member."
"Ensure pools are safe and clean for all."
"Allow friends and families to swim without worry."
"Oversee the safety of the pool while swimmers enjoy their time."
"Allow for a safe place for families to be together and swim."
"Make sure everyone feels safe."
"Offer a fun, safe, and engaging environment for all members."
"Provide a safe pool for all people to enjoy the water."
"Keep guests and lifeguards safe and maintain well-trained staff and a clean environment." 
Why do you belong at the YMCA? We want to hear from you on Facebook, Instagram and Twitter, and don't forget to tag the Y branch you visit and include the hashtag #YiBELONG.