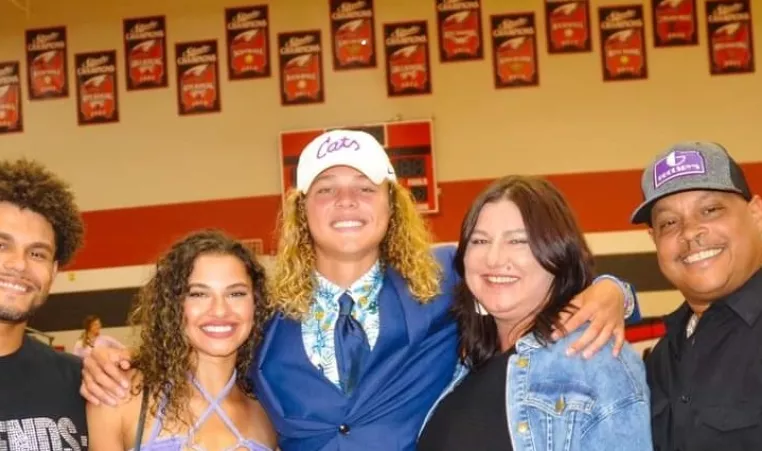 We often say the Greater Wichita YMCA is a place where future MVPs are made, and it was proven once again by Kansas' No. 1 high school football prospect, Avery Johnson. There was intense media attention on the Maize student's decision to commit to Kansas State University. His family was right beside him during the announcement, including his father Mark Johnson. This sports family has many memories from their competitive games at the Y, which they credit for getting them to where they are today. Mark knew that personal growth was part of the Y experience for his kids, but he never expected to join them in learning valuable lessons about himself. Here is Mark's Y story and the reason he is thankful for the role Y staff play in bringing out the best in everyone: 
My name is Mark Johnson. My many years with the YMCA have been a long experience – one in which changed my life for the better. Here is a little bit about me and the YMCA.
First, The YMCA stands for Young Men's Christian Association. I knew that, but let's just say that in my early years, I didn't act or speak like a Christian. My first situation happened as my son was playing basketball. The Y had a rule that while competing, players had to guard the player with the same color wrist band. Call me crazy, but I knew at that age, my son would be better than Michael Jordan (just kidding, but many of us act like this) and proceeded to tell the ref how stupid of a rule it was. I ended up using a few words that were not Christian. I was asked to leave and was no longer able to coach.  
Fast forward, no longer a coach, now I am a loud, disrespectful parent. Before I arrived at games, I had already made up my mind the referee was going to make stupid calls on my kid.  I was asked to leave many times by Farha Sports Center Branch Director Catherine Seals – MANY times.  
Every time I would return to the gym, she would ask me if I was going to be good. My answer was "yes," but my behavior and mouth were a loud and obnoxious "no."   
After a while of me showing little growth, Catherine and I had a meeting to discuss me being able to return to the gym. She treated me as a person and explained to me that my son was an exceptional talent but my behavior, if not adjusted, would be my kid's downfall.  
That hit me like a ton of bricks. I never looked at it like that. I thought I was having my kid's back, but I could not do that screaming and yelling. I started making adjustments. It carried with me to middle school and then high school. I changed because of my behavior and how it affected my kids. I knew that there was no college that would want a loud parent screaming at their events.  
I eventually would go to the top of the gym and sit. I knew no one could hear me way up there, hence no need to scream.  I also knew, that if they were not prepared, yelling at them on Friday nights would neither make them play better nor make them any more prepared.  
I would like to say I am a proud parent of three. All three attended or is going to attend school on an athletic scholarship. This is a blessing, one that would not be possible without the YMCA and Catherine Seals.  Her patience and willingness to see something in me allowed me to see and witness a lot with my kids, and I am forever thankful.  
We owe her and the YMCA a lot with the programs and many options they provide. I know the many hours we have spent in Y facilities nationwide has given us a platform that is life changing.  We appreciate everything you have done for us and millions more. Thank you from the Johnsons.