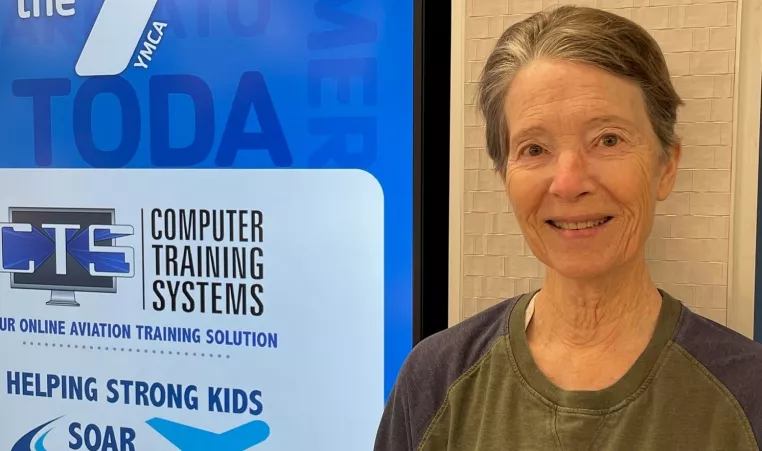 The Greater Wichita YMCA is a tight-knit community full of people of all ages who care about their own physical and mental health as well as the well-being of everyone around them. Their stories illustrate how the Y is a place FOR ALL. 
Toy Mitchell regularly visits our West YMCA branch and is 69 years young. Her health has improved so much since joining the Y, she was compelled to write a letter to staff. She admits she wouldn't be where she is today without the Y. What's also true, is that the Y's mission to strengthen our community wouldn't be possible without the support of members like Toy. 
We're sharing Toy's letter today as a thank you for all the positivity she has spread and to show others in similar circumstances that physical activity really does pay off!
Here is what she had to say:  
I have been a member since January 2020. At the time, I decided my best approach to beginning an exercise routine was to enroll in classes that would cover the widest possible exercise gambit.
I have been regularly attending:
Monday yoga with Leslie
Tuesday Cardio Dance and Muscle Pump with Polly
Wednesday boot camp with Joyce (I walk the track at the Downtown Y for an hour earlier in the day)
Friday boot camp with Joyce
Saturday yoga with Lee, and now Saovny
I have recognized an overall improvement in strength and endurance. I am 69 years old and in far better shape than I was at 49. I would not see this improvement without the classes I attend because, on my own, I just wouldn't do it!
My point is simply this: During my annual physical exam, my doctor asked what kind of exercise I did regularly and specifically, what was boot camp. When I finished describing what the various stations in boot camp required of me, my doctor simply said, "Perfect! You're doing everything just perfect. Keep it up!"
I spent the first six months in boot camp selecting the easiest exercises at each station.
It finally occurred to me that perhaps I should be performing the station exercises in the order in which they were listed on the card – fitness instructors know what they're doing! I have kept that New Year's resolution for the past two years now. It took me a year to do 60 jumping jacks in a minute, but I can now. Lung function has definitely increased.
My goal in Muscle Pump is to maintain the repetitions rather than struggle with adding extra weights. I do try to "bump it up" every January, but I'm keeping up with the reps, which is what I strive for.
Yoga on Monday wakes my body up for the work it's going to be doing the rest of the week; Saturday stretches out all the sore muscles from the work I did during the week. It also has its strength and balance challenges!
I wouldn't be doing this without the Y. Even my blood test results have shown improvement which only encourages me more to keep it up.
If anyone had told me 20 years ago, I'd be doing this today, I'd have laughed at you!
Thank you.