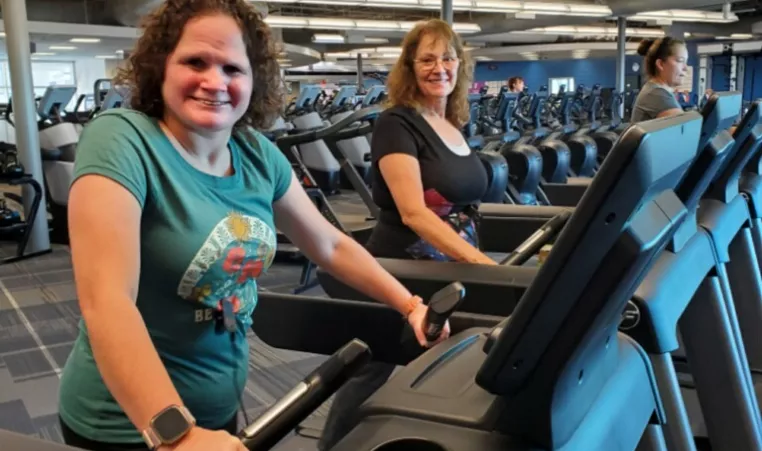 Dawn and Sami Couzens belong at the Greater Wichita YMCA because of the personalized attention they receive from Erin, a personal trainer at the Dennis Schoenebeck North YMCA. Here is their story in their own words:  
"My daughter and I started a membership at the YMCA in 2011 after a lengthy illness left her paralyzed and in a wheelchair. Her personal trainer worked with her three days a week for months. Once she was able to walk with assistance, we both worked with a personal trainer once a week. We established a close relationship with Erin because of the encouragement we received from her.
When the pandemic closed everything down, we lived in seclusion for 15 months due to her compromised immune system. As soon as it was safe to go back out into the community, we both signed up for personal training with Erin again. As with a lot of people, we had both gained weight and lost muscle and strength. My goal was to not only get us both back to a healthy weight, but to get our strength back as well.
Erin introduced me to the Complete Training program, and it has been so helpful in getting me back to a healthy lifestyle. In the past, I was on my own to figure out how to incorporate nutrition with  my workout goals. Now, Erin starts each session going over my past week's nutritional accomplishments and adds in new goals for the coming week. She's provided me with lists of healthy foods to plan my meals.
It's been so easy to take those informational sheets with me to the grocery store and make healthy choices. I bring up concerns or ideas that didn't work out, and she helps me come up with ways to overcome any obstacles I encounter. I really feel that the help I get from Erin each week to build an all-around healthy lifestyle has been the key to my success so far! I feel stronger with more energy and excited about the changes I've made and know I will continue to make. Since starting the Complete Training program with Erin in January of this year, I've lost 12 pounds and gained so much more in confidence, strength and resolve to make healthy lifestyle choices." - Dawn and Sami Couzens