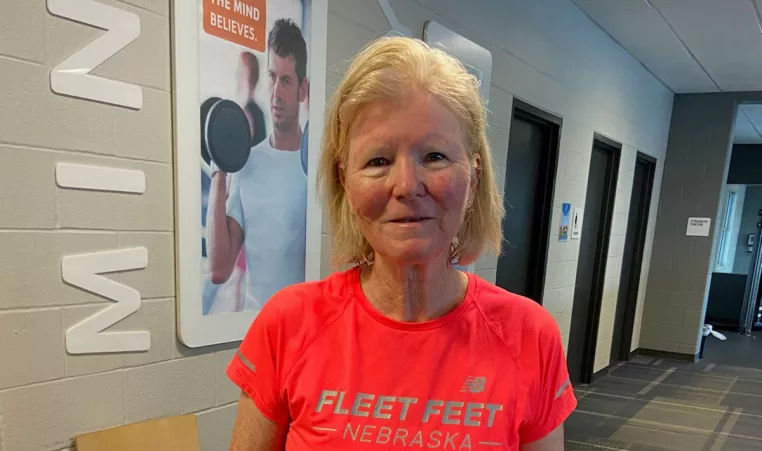 Nancee Knierim belongs at the Greater Wichita YMCA because the staff at the Dennis Schoenebeck North YMCA only see her ability, not her age. 
At age 69, she set a goal to run a marathon.  
Here is her story in her own words: 
My name is Nancee Knierim. I am 69 years old and have the usual medical history of past issues, including surgery on both rotator cuffs, ruptured disc in lower back, etc. In realizing next year I would be 70, I decided to set a goal of running a marathon (26.2 miles) at 70. To get there, this year, I decided to do a half in November (13.1 miles). 
I researched and came up with a run/walking plan that seemed to fit my needs, and to help make that an injury-free process, decided to add  Suresh Menon, YMCA personal Trainer, to my plan for cross training twice a week to improve my overall strength, core and balance.
I knew that 69 years of living and not working out left me with challenges to address. My upper body strength was not very strong and balance had become more of an issue due to lack of flexibility and core strength.
During my training, I have seen the following goals being met:
I have completed all of my run/walking goals and cross-training workouts.
My weekly long run average time per mile has decreased by a minute and 13 seconds while my mile run has increased by 5 miles over the beginning miles run – exceeding goals I had hoped for.
My lung function ( VO2 Max) has increased from 32 to 34 (good to excellent).
Both of these were achieved while maintaining my average heart rate for the run within 3 beats per minute of the first long run.
The above are measurable results, things I can see during training are:
Improved balance and core strength.
Increased flexibility (able to stand back on my heels without tipping over during exercises, put the soles of my shoes together while setting on the floor, extend both my arms up my back further and above my head).
I can complete exercises with free weights using both arms or legs without a significant difference in one side. When I started training, I was only doing only one side at a time to maintain control.
I have also improved my running form with a better posture, head up, open chest, using arms, legs, back and core to improve stride.
Suresh focuses on helping me reach my goals. He puts together workout routines that have enhanced my ability to identify what muscles should be doing the work and improved my form to let that happen. The workouts go past so fast. His incorporation of stretching between some exercises prevents cramping and tight muscles after the workout. The small circuits of exercise help focus on all muscle groups through the workout, making it a surprise how much you can achieve by the third set. I always leave tired but feeling good and more flexible than when I walked in. Looking forward to the next workout.
I have even started doing some exercises in the weight room – who would have thought that was possible!  Thank you Suresh and the YMCA for making this possible.
Why do you belong at the YMCA? We want to hear from you on Facebook, Instagram and Twitter, and don't forget to tag the Y branch you visit and include the hashtag #YiBELONG.