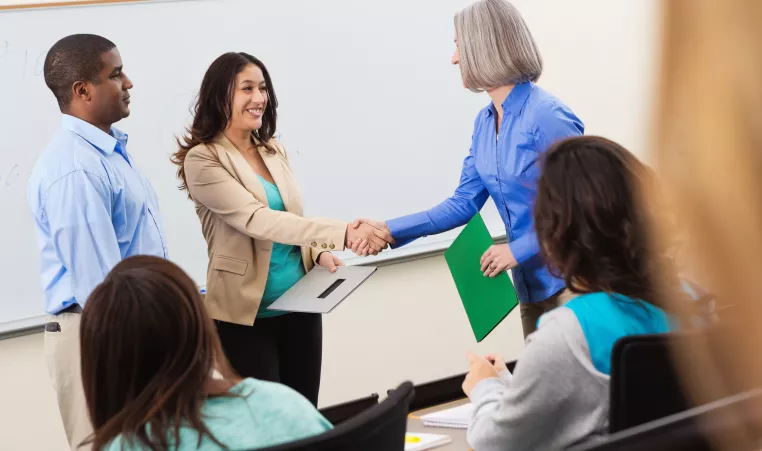 Wichita, Kansas — The Greater Wichita YMCA's Job Prep program, which kicked off its 2022 classes in February, will culminate with a celebration for its 89 students on Thursday, August 4 at the Wichita Boathouse, 515 S. Wichita St. The event will be held from 6-8 p.m. and be attended by the graduates' families, supporters and Y staff.  
Job Prep is a free program offered to 15-17 year olds that is made possible by generous support from Koch Industries, a sponsor since its inception in 2008, and donations to the Y's Strong Community Campaign. Job Prep creates work-ready teens through classroom instruction, certification in first aid and CPR and interviews for summer jobs intended to boost their employment soft skills and give them a clear understanding of performance expectations.  
This year's class successfully completed all classroom requirements and logged real-world work experience with these Job Prep for-profit and not-for-profit business partners:
Cargill
City of Wichita
Exploration Place
Greater Wichita YMCA
Great Plain Ventures, Inc.
Il Primo Espresso Caffe
INTRUST Bank
M & M Insurance Associates
Mel Hambelton Ford
OJ Watson Park
Shocker Store at Wichita State University
Sojourner's Coffee House
Sweet 'n Saucy
The Teahouse at Clifton Square
Wichita Art Museum
"What's so amazing is that Job Prep is now in its 13th year, and we are continuing to reach more and more teens who are discovering everything that they can contribute to the community," said Tyrone Baker, who heads the initiative as the Y's Community Development Branch Senior Program Director. "Watching youth recognize their potential before your very eyes, realizing there is more to their future than entry-level jobs, is a wonderful thing to witness."
This year, in-person Job Prep sites were expanded from the Downtown and Steve Clark Y branches to also include five Wichita Public Schools high schools (North, South, West, Southeast, Heights) and Goddard Academy. The school districts' enthusiasm to partner and willingness to make adjustments to schedules made it possible for students to conveniently attend Job Prep sessions in their own schools. 
Goddard Academy student Sophie Ballenger is thankful she had the chance to join Job Prep and overcome many insecurities she had about holding a job. 
"I learned so many important skills in the program that I am confident will continue to help me as I navigate life," Sophie said. "My communication skills have improved, and I received amazing on-the-clock experience. Before Job Prep, I was really nervous about coming face-to-face with other employees. Job Prep has helped me with my work skills and my social skills. I feel like I am excelling now."  
Job Prep's focus on youth development and the future of our community fits within the Y's overarching Healthy Connections Plan. Creating connected communities is a key strategy of the plan and a way the Y is bringing people together to find their potential, purpose and each other. 
###
ABOUT THE GREATER WICHITA YMCA
Since 1885, The Greater Wichita YMCA has been volunteer-led and mission driven and consistently empowered healthy lifestyles, strong families, and positive youth development for all in South Central Kansas. Today, we employ more than 1,400 individuals and serve well over 300,000 of our neighbors in Butler, Harvey, Kingman, Reno and Sedgwick Counties. We support a healthy spirit, mind, and body through community development, education and wellness initiatives, youth and family programs, licensed child care and camp, and physical activity. Our more than 190,000 members and the entire community have access to over one million square feet of fitness space across our 10 area branch locations in El Dorado, Newton, Hutchinson and Wichita as well as four seasonal, outdoor water parks, two indoor/outdoor sports complexes and Camp Hyde. Our annual Strong Community Campaign, which funds our free and reduced-cost programs and enables scholarships, grants and income-based member and program pricing for those who qualify, allows us to honor our commitment to serve all, regardless of their ability to pay. Learn more at ymcawichita.org.