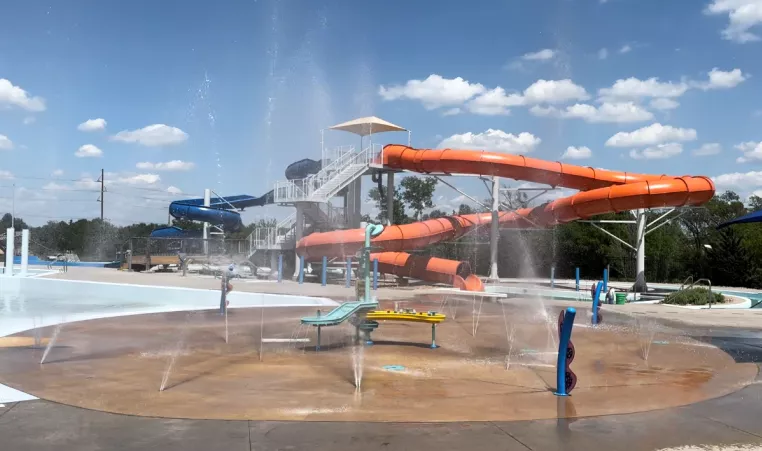 Opening day for the Andover YMCA water park is Saturday, May 27. The completion of this first phase of our reopening plans is dedicated to our members. 
As a show of our appreciation, the Andover Y water park's first two weeks of operation will be open to Y members only so they can experience the new water park features before anyone else. Non-members are invited to go to our three other water park locations during this time and purchase guest passes.
Andover Y water park guest passes will be available starting June 12. 
Click on the button below if you're not currently a member and want to be part of the Andover Y water park's opening.
For the Andover Y water park, guest passes can only be purchased online and will be accepted starting June 12; they will not be sold onsite.
purchase guest pass online
Please enter on YMCA Dr. off of Kellogg/Highway 400 and take an immediate right at the driveway. The east half of the parking lot will be reserved for water park visitors; the other half is closed for building construction. 
Water Park Features and Cabana Rental
While the Andover Y water park will have the same footprint as before the tornado (lazy river, Toddler Bay, family pool, tube slide, body slide and splash pad), it will have entirely new look and feel plus added features that meets our objective to transform the damage into new opportunities for the Andover Y and the surrounding community.
As you and your family stay cool in the water this summer, you'll notice a number of enhancements that include:  
A Splash Pad with updated interactive spray features  
More amenities and features in the toddler area  
New bucket feature and basketball goals
Newly constructed bridges 
More shaded areas for members
The water park's new Cabana area can be rented for special occasions.
$50 members      
$70 non members (starting June 12; hourly rental does NOT include guest passes to enter the water park)
1 hour 45 minute rental times available
Includes 8-foot table and chairs
To make a reservation for any date through June 11, please call 316-264-9374.
Reservations for June 12 and later can be made in person at any branch or online using the button below. 
Food and beverages will be for sale. No outside food or drink is allowed inside.
The Andover Y water park is a cashless location. Only credit and debit cards are accepted at the concession stand. 
Restrooms, Changing Rooms and Lockers
Restrooms are located within the water park; 𝘁𝗵𝗲𝗿𝗲 𝘄𝗶𝗹𝗹 𝗯𝗲 𝗻𝗼 𝗯𝘂𝗶𝗹𝗱𝗶𝗻𝗴 𝗮𝗰𝗰𝗲𝘀𝘀 𝗼𝗿 𝗹𝗼𝗰𝗸𝗲𝗿 𝗿𝗼𝗼𝗺 𝗮𝘃𝗮𝗶𝗹𝗮𝗯𝗶𝗹𝗶𝘁𝘆.
Water park visitors will have access to six changing and rooms and a limited number of freestanding lockers.
The lockers are intended for temporary storage of your belongings while you are at the water park; any items left in lockers at the end of each day will be discarded. Lockers cannot be rented.
Locks will not be provided for the lockers; please bring your own. 
Water Group Exercise Classes and Weekly Yoga Class
Water group exercise classes 
The Andover Y water park will host water group exercise classes starting June 5. Schedules will be available closer to that date. 
Water Exercise classes combine a light to moderate aerobic workout with exercises in the shallow and deep water to help increase endurance, core strength and flexibility. 
Group Exercise Class Schedule 
May 29: Memorial Day Boot Camp, Andover YMCA turf fields, 9AM (details)
Every Thursday: Yoga, Farha Sports Center-Andover, 10AM (details)
Avoid the crowd as you splash and play with your youngster during this special time for ages 6 and under (must be accompanied by a parent at all times). Toddler time is free for Y members.
June 5-August 5 
Mon, Wed, Fri and Sat 10:30AM-Noon 
August 12-Sept 2 Saturday only
Water parks may be closed at any time due to weather or temperatures below 80 degrees. Please follow us on social media for updates.
The Dr. Jim Farha Andover YMCA building is expected to open in 2024 with a new attention-grabbing feature inside. 
In place of the rock-climbing wall will be a 44-foot Luckey Climber, which is an interactive, three-dimensional vertical maze – essentially a climbable work of art (rendering below).
The Andover Y's Luckey Climber will have a unique design, crafted of steel pipes, molded climbing platforms that resemble flower petals and be encased by thousands and thousands of feet of vinyl coated cable to create a seamless netting.
Our Luckey Climber will not only be awe-inspiring in its design, but also offer adventures to kids of all ages while challenging them to problem-solve and think spatially.
This addition coupled with the water park enhancements are part of the Y's continued focus to provide spaces that invite families to participate in enriching activities together, allowing them to strengthen their relationships with each other and the community.