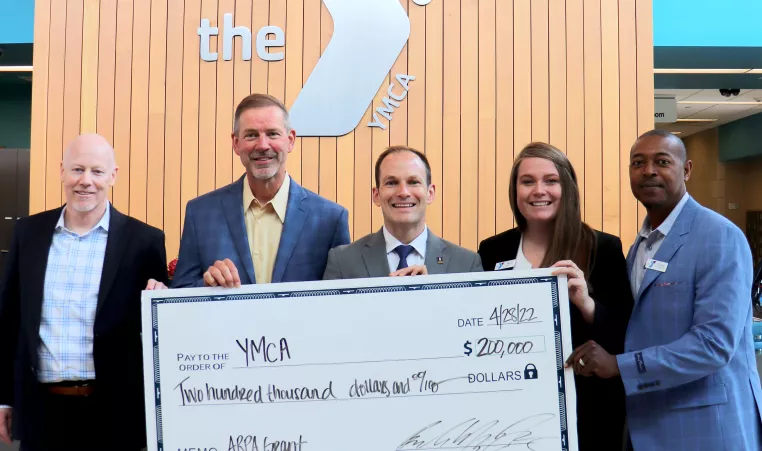 Wichita, Kansas — The Greater Wichita YMCA today announced a plan to allocate the $200,000 American Rescue Plan Act (ARPA) Workforce Development Grant received from the City of Wichita to its long-running Job Prep program. The Y was one of 14 organizations awarded ARPA Workforce Development Grants in April to aid public health and economic recovery from the COVID-19 pandemic. As Wichita works to improve economic development and job growth, a fundamental requirement is an equipped workforce. Job Prep is one solution to that need.
Job Prep is a free program supported by donations to the Y's Strong Community Campaign. It is offered to 15-17 year olds and includes classroom instruction on interviewing, dressing appropriately for the work environment, customer service, financial literacy and responsibility and more. Certifications in first aid and CPR are included as well. Students who pass all classroom requirements and mock interviews are eligible for summer employment.
"The sooner teens learn basic employment soft skills, the more likely they are to be successful in the long term," said Tyrone Baker, senior program director for the Y's Community Development branch. "Job Prep ensures that participants are better prepared to enter the workforce and become viable and responsible employees who have a clear understanding of job performance expectations."
This year, in-person Job Prep sites were expanded to include the Downtown and Steve Clark Y branches, five Wichita Public Schools high schools (North, South, West, Southeast, Heights) and Goddard Academy. The increase in students has resulted in additional funding needs to cover the summer wages of students hired by Job Prep's not-for-profit partners. Wages are paid by the Y, along with donors, foundations and for-profit business partners. ARPA funds will be used in combination with donations from the community to cover the increased payroll costs.  
Job Prep businesses play a key role in the program's success and ability to offer youth meaningful summer job opportunities. INTRUST Bank was among the for-profit business partners added in 2022 that provided financial support to Job Prep.
"Job Prep students are Wichita's next generation of professionals and leaders," said Rene' White, Director – Human Resources Talent Management at INTRUST Bank. "We are proud to be part of a program that encourages youth to think seriously about their career paths beyond entry-level positions. Doors are being opened to students of all socioeconomic backgrounds through Job Prep, and we are excited to introduce them to the banking industry."  
Not-for-profit and for-profit businesses are recruited year-round to partner with Job Prep, which is now in its 14th year. To learn more, go online to ymcawichita.org/jobprep or contact Job Prep Program Director Nicole Hernandez at 316-776-8179 or nicole.hernandez@ymcawichita.org.
Job Prep's focus on youth development and the future of our community fits within the Y's overarching Healthy Connections Plan. Creating connected communities is a key strategy of the plan and a way the Y is bringing people together to find their potential, purpose and each other. 
  
###
 
ABOUT THE GREATER WICHITA YMCA
Since 1885, The Greater Wichita YMCA has been volunteer-led and mission driven and consistently empowered healthy lifestyles, strong families, and positive youth development for all in South Central Kansas. Today, we employ more than 1,400 individuals and serve well over 300,000 of our neighbors in Butler, Harvey, Kingman, Reno and Sedgwick Counties. We support a healthy spirit, mind, and body through community development, education and wellness initiatives, youth and family programs, licensed child care and camp, and physical activity. Our more than 190,000 members and the entire community have access to over one million square feet of fitness space across our 10 area branch locations in El Dorado, Newton, Hutchinson and Wichita as well as four seasonal, outdoor water parks, two indoor/outdoor sports complexes and Camp Hyde. Our annual Strong Community Campaign, which funds our free and reduced-cost programs and enables scholarships, grants and income-based member and program pricing for those who qualify, allows us to honor our commitment to serve all, regardless of their ability to pay. Learn more at ymcawichita.org.