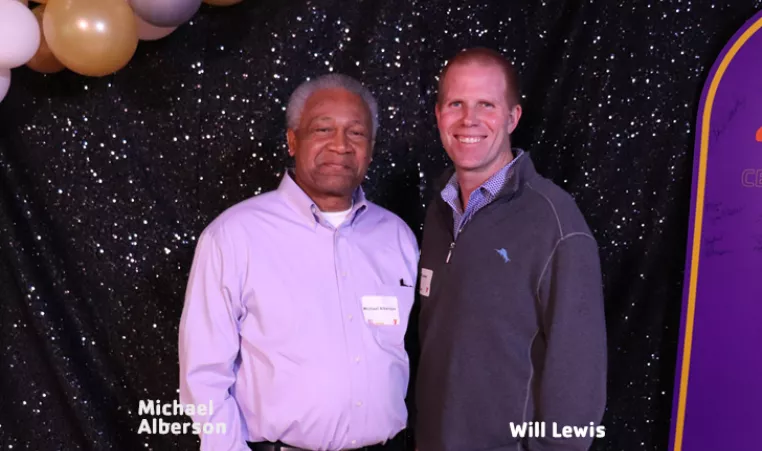 Coach of the Year Award
What coaches do FOR ALL kids goes beyond notes on a clipboard, because teaching players the rules of the game is only a portion of their impact. 
With each practice and interaction, coaches are preparing our youth for every new chapter to come in their lives.
We hear so often from adults who grew up in the Y's sports program that what they learned from their coaches helped them be better adults. 
Working as a team. 
Being gracious in victory and defeat. 
Never giving up
Never quitting
What kids learn on the field or court stays with them long after they swap their sports jerseys for business casual attire. 
We recognize all coaches nominated for 2022 Coach of the Year who are true role models: 
Chad Henningsen, Andover Y
Nathan Hall, East Y
Sarah Hinshaw, El Dorado Y
Michael Alberson. Farha Sports Center Basketball    
Joseph Kelven, Farha Sports Center Soccer   
David Ramirez, Farha Sports Center Volleyball   
Ben Wallace, Hutchinson Y
Bill Schrant, North Y
Kaycee Sutter, Northwest Y
Jim Barclay, South Y 
Winner: Michael Alberson
The following are excerpts from Michael Alberson's nomination that was jointly submitted by three parents: 
Coach Mike has dedicated his life to teaching boys how to play basketball and how to be good men. He cares about the whole person that they are and who they will become, not just the player they are. Coach Mike is the epitome of what you want a coach to be for your child.
Michael took on an extra team this fall for the purpose of helping kids grow and love the game of basketball. What he actually did, was teach young men how to become men.  He spent as much time making sure their grades were good and teaching the values of responsibility and caring for others, as he did the game of basketball.
He's a very competitive guy, of course, but he views winning as the result of a solid process - with no shortcuts taken - and that winning games isn't why we do all the work and spend all the time and money on this sport. The boys and their families are much more important to Mike than victories, trophies, and medals.
One thing people might not see or know about Mike is the way he cares about opposing coaches and players. I've witnessed him mentor young coaches to get better - even if it may make our future games with them more difficult.
No one demonstrates the YMCA principles more than Mike Alberson and if there's a better coach or man in Wichita youth basketball, I haven't met him.
He is truly a great teacher, coach and friend. This award is very well deserved. 

Volunteer of the Year Award
Volunteers really are the heart of the Y. 
They give broadly give of their time, talents and resources to ensure the Y's message of belonging and acceptance is heard within all corners of our community. 
When you're a volunteer, you're not doing it for the glory. It's not about the recognition. 
Volunteering comes from the most sincere of intentions: a desire to help others.
We recognize all volunteers nominated for the 2022 Volunteer of the Year Award who exemplify the mission of the Y:  
Todd Kane,  Andover Y
Bill Rowe, Child Care & Camp
Brian Wilkinson, Community Development
Karen Osborn, Downtown Y
Alex Mariotta, East Y
Larry Pond, El Dorado Y
Will Lewis, Hutchinson Y
Randy Carlgren, Metro Board Of Directors 
Jerry Pomeroy, Newton Y
Jon Vilaythong, North Y
Susan Pauly, Northwest Y
Stephanie Coriano, South Y
Amanda Schmits, Steve Clark  Y
Karen Hepler, West Y 

Winner: Will Lewis
Will Lewis is the epitome of what any YMCA would look for in a Volunteer of the Year.  Will joined the YMCA of Hutchinson and Reno County Board of Directors in 2020.  He accepted the nomination of Board Chair knowing that the YMCA was not in good shape in any area - financially, management or community relationships.  
He spent countless hours as board chair working with a limited number of board members and an interim CEO, mending relationships and educating himself and others about the few options available to keep the YMCA open in the Hutchinson community. 
In the summer of 2020, Will and Shane, the board's chair elect, would meet for hours with the interim CEO to strategize their next steps to keep the YMCA doors open. They would continue this weekly meeting for the next 10 months. Will would also check in daily to help staff work through management and membership issues, sign checks to pay the bills and offer to help fix the next issue that came up. He should have been on the payroll for all the work he was doing each day. He was also integral raising funds during the resurrected annual giving campaign.
In the spring of 2022, after news spread that there were conversations to become part of the Greater Wichita YMCA family, there was some disruption in the community. It took a lot of courage, but Will and Shane went to work sharing the message that this was the best sustainable decision for the community.  
Will kept the purpose and mission at the forefront for Hutchinson and led the new board to a sustainable decision for the Hutchinson YMCA.
Through Will's courage, advocacy and leadership, in July 2022, the Hutchinson Y became a branch of the Greater Wichita YMCA.  
Thank you Will for always putting your love for the YMCA's mission and service to the community first.