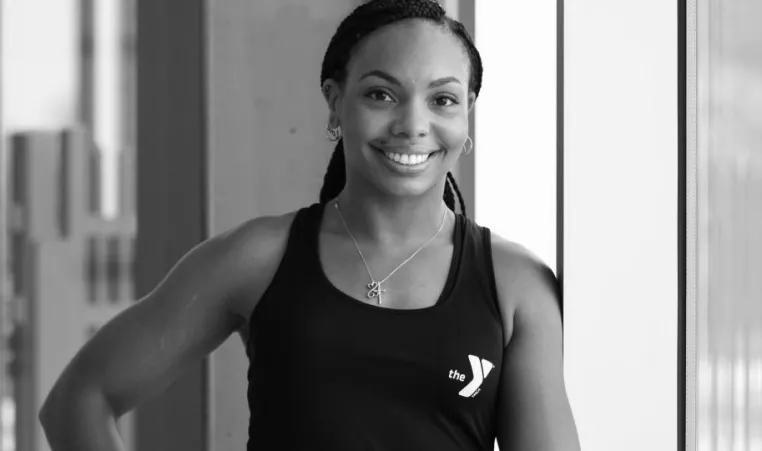 The Y is a place where Aisha belongs
Let us introduce you to Aisha Smith, group exercise coordinator at the Dennis Schoenebeck North YMCA. She is a powerful example of how access to a Y membership through financial assistance can literally turn someone's life around. 
In 2009, she left an unhealthy environment and decided it was time for a change. Her main motivators were her children who looked up to her. She knew she had to end her reliance on anti-depressants, mood stabilizers and cigarettes. She wanted to find a positive way to cope with life, and she turned to the YMCA. 
"I wanted more, and not just for myself, but for the two young ladies I knew would have to look up to me and depend on me. I wanted better for them," Aisha said. "I currently had a minimum wage job barely making it, no car but a bus pass. I took a trip to the East YMCA, knowing I could not afford a family membership but wanted to see my options. I was advised to apply for financial assistance and got approved for a $4.52 a month membership for me and my girls."
The generosity of donors who contribute to the Y's Strong Community Campaign made it possible for Aisha to find her place at the Y and become a completely different person – one that she can honestly say is the best version of herself. 
"I write this with tears in my eyes. If it was not for the Strong Community campaign at the YMCA that gave me the opportunity to birth a career as a fitness instructor that I am so passionate about today, I have no idea where I would be," she said. "I'm so grateful, I'm so humble and will forever be in debited to the YMCA."
The Greater Wichita YMCA is a place where all of us belong. We participate in classes, programs and sports for many different reasons, but one thing is constant: the Y makes us feel welcome, accepted and loved. Every person who comes here has a #YiBELONG story to tell, and we're honored to share their experiences with you. 
Why do you belong at the YMCA? We want to hear from you on Facebook, Instagram and Twitter, and don't forget to tag the Y branch you visit and include the hashtag #YiBELONG.