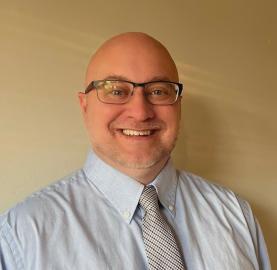 David Foster
David Foster is in 24th year as a employee of the YMCA. He began his YMCA career with the YMCA of Greater Oklahoma City in 1997 and has had the opportunity to serve in a variety of leadership positions at YMCAs in Oklahoma, Colorado, Texas, and Kansas. Most recently, served as the Branch Director of the Richard A. DeVore South YMCA in Wichita, Kansas.
Foster is involved in his local community having served in local Rotary Clubs, Chamber of Commerce Boards, and various other leadership capacities. He is a YPN (YMCA Professionals Network) Member and current Chapter 71 YPN Board Member. In addition, he has spoken at national YMCA conferences on a variety of topics including board/volunteer development and community partnerships. He is also a YMCA certified trainer in Volunteerism and Leading and Coaching Others.
He is a graduate of the University of Central Oklahoma and completed coursework toward a Master's Degree in Sports Administration at Oklahoma State University. He is married to Ali and they have a daughter, Audrey. In his spare time, he enjoys pickleball, golfing, exploring the outdoors, watching sports of all kinds, and spending time with his family.