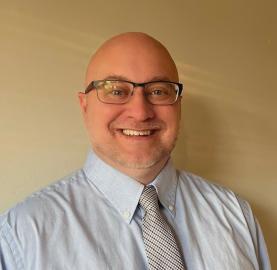 David Foster
David Foster is in 24th year as a employee of the YMCA. He began his YMCA career with the YMCA of Greater Oklahoma City in 1997 and has had the opportunity to serve in a variety of leadership positions at YMCAs in Oklahoma, Colorado, Texas, and Kansas. Most recently, served as the Branch Director of the Richard A. DeVore South YMCA in Wichita, Kansas.
Foster is involved in his local community having served in local Rotary Clubs, Chamber of Commerce Boards, and various other leadership capacities. He is a YPN (YMCA Professionals Network) Member and current Chapter 71 YPN Board Member. In addition, he has spoken at national YMCA conferences on a variety of topics including board/volunteer development and community partnerships. He is also a YMCA certified trainer in Volunteerism and Leading and Coaching Others.
He is a graduate of the University of Central Oklahoma and completed coursework toward a Master's Degree in Sports Administration at Oklahoma State University. He is married to Ali and they have a daughter, Audrey. In his spare time, he enjoys pickleball, golfing, exploring the outdoors, watching sports of all kinds, and spending time with his family.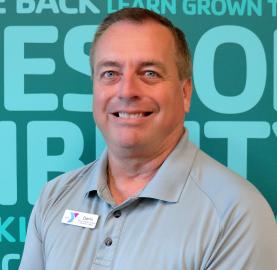 Darrin Regier, Senior Program Director
Darrin Regier started with the YMCA in 1994 working in the Sports Department then becoming Sports Director soon afterwards. Regier also served as Director of Membership, Sports, and Youth and Family until being promoted to Senior Program Director in 2022.
Regier is involved in his local community helping Hutchinson High School Football program, Board Member of the Mid State Football League and various other community programs. He took courses at Hutchinson Community College and Sam Houston University in Crime Scene Photography and Juvenile Law. He has a daughter Caley and enjoys spending his free time with his grandchildren Marcel and Olivia. Hobbies include photography, travel and sight seeing, and watching sports.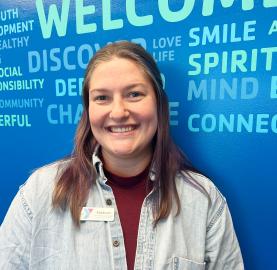 Madison Richards, Gymnastics Coordinator
Madison is in her 5th year with the Greater Wichita YMCA. She has spent the past four and a half years working at the Richard A. DeVore South YMCA where she coached gymnastics, taught swim lessons and splash, and was also a lifeguard.
Madison spent most of her childhood cheering competitively. Madison cheered all 4 years of high school and continued to cheer for 2 more years in college. Madison spent 1 year cheering at HCC and 1 year at Wichita State. She graduated from Hutchinson Community College in May of 2020. After her time at Hutch, she continued her schooling at Wichita State University. Madison graduate from Wichita State in May of 2022 with a Bachelor's in Sport Management.
In her free time Madison enjoys hanging out with friends and family as well as playing with her 2 dogs Tucker and Gidget.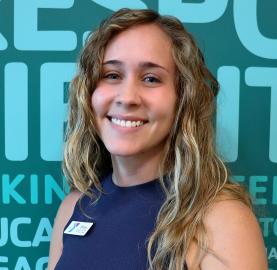 Shaley Shumate, Wellness Coordinator
Shaley Shumate started working for the Hutchinson YMCA during the summer of 2022. She has worked in different facilities as a personal trainer over the last several years and is now working as the Wellness Coordinator.
Shumate attended Dodge City Community College on a track scholarship where she later helped her former head coach as a volunteer for two seasons. After receiving her Associate of Arts, she transferred to Southwestern College on another track scholarship. Having a background in athletics and fitness she enjoys helping others achieve their fitness goals.
She is engaged to Cody, and they plan to be married in the spring of 2023. They have recently purchased their first home and are excited to be a part of the Hutchinson community. In her free time, she enjoys running, golfing, exploring the outdoors, playing with her dog, and spending time with loved ones.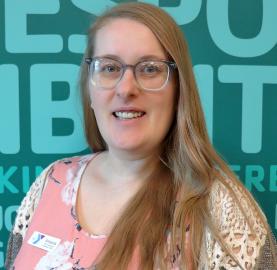 Amanda Gajewski, Kid Zone Coordinator
Amanda Gajewski started working for the Hutchinson YMCA during the summer of 2008. She has worked in all aspects of the childcare programs that have been offered over the last several years now working as the Youth and Family Coordinator.
Gajewski attended Butler Community College on a dance scholarship and even briefly taught dance at the Eldorado YMCA while there. Having a background in dance she likes to try to incorporate movement and high energy fun into the classrooms she works in.
She is married to Jordan, and they have a son, a rainbow baby named Asher. Asher enjoys coming to work almost as much as mommy does most days. In her free time, she enjoys crocheting, buying yarn, arts and crafts, playing board games with friends, and dancing around the house to Disney music.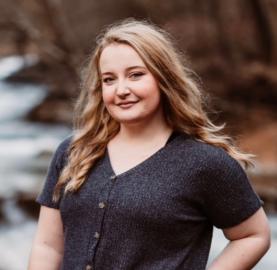 Danae Moser, Aquatics Coordinator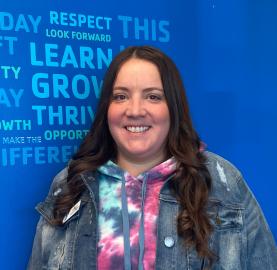 Caitlyn Duque, Administrative Assistant
Caitlyn Duque has lived in Hutchinson for 15 years. She moved here to attend HCC in 2007, after graduating in 2009 she decided to stay and make it her home. She and her husband John have two boys. They spend their weekends at games and tournaments for whatever sport is in season at the time! She enjoys taking GroupEx water aerobic classes and is working on certification to teach. She is looking forward to serving all around the YMCA.